The JLSP Endowment has been in existence since 2002. After two years of extensive research and investigations into several endowment options, the JLSP established its endowment with the Community Foundation of Tampa Bay.
Donations to the League's endowment can be made by paying securely via credit card online by clicking here, or via check payable to the Junior League of St. Petersburg with a notation earmarking the donation for that intention.  If you have any questions about Annual Giving or Endowment, please contact Erin Whittemore Lohmiller and Hannah Gross at [email protected] or 727-895-5018. Checks can be mailed to:
Junior League of St. Petersburg
Attn: Endowment
500 Dr. Martin Luther King, Jr. St N, Ste 300
St. Petersburg, Florida 33705

---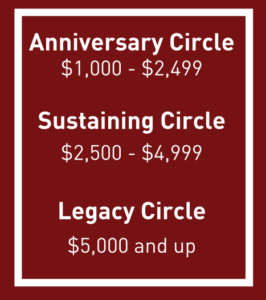 90th Anniversary Circles
As we renew our League's commitment to ensuring the
sustainability of our League and leaving a lasting legacy, we invite you to join us in contributing to our Endowment Fund and leave your Legacy on the League as part of our 90th Anniversary Circle. Make your contribution now or over time.
Founders' Circle
Our Founders' Day Circle recognizes those individuals who contributed to the kick-off of our 90th Anniversary Endowment Fund campaign on our League anniversary on March 4, 2020. Below is a list of our Founders' Circle Members.
Maggie

Adams

Sandra Bozeman

Hannah Dewar Gross

Lauren Krauser

Morgan Reid

Alexis Carlon

Klarika Caplano

Stephanie Guckenberger

Kristen Lefkimiotis

Megan Roach

Brittney "Paige" Baker

Judith Cunniff

Marie Hartney (In memory of aunt, Virginia Lazzara)

Erin Whittemore Lohmiller

Carol Russell (In honor of Sarah Lonquist)

Marion Ballard

Rachael Russell DeVicente

Veronica Hickey

Georgia Mattern

Abby Saba

Shirley Bassett (In memory of sister, Betty Heisler Frank)

Lauren Feaster

Carol Holland (In memory of Mailande Holland Barton)

Alicia McShea

Virginia Sexton

Murray Beairsto

Jane Ferguson (In memory of Jane Mahaffey)

Summer Jensen

Elise Minkoff

Lesa Shouse

LeeAnn Beltz-Backer (In memory of Evelyn Wilty)

Chloe Firebaugh

Lisa Johni (In honor of Carol Russell)

Samantha Nevins

Elithia Stanfield

Linda Berset

Gigi Fleming

Brynne Johnson

Hon. Tyler Payne

Jackie Vanderbleek

Mardi Bessolo

CarrieAnn Frese

Aimee Jopling

Heather Perkins

Stephanie Vranich (In honor of Heather Perkins)

Hon. Robert Blackmon

Erin Gladysz

Haviland Kebler

Rebecca Raj Swofford

Kathy Whittemore

Margaret Bowman

Gaby Gramling

Melissa Kidwell (In memory of Helen Siviter)

Mary Reed

Amee Wojciechowski